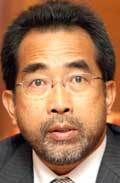 I've heard from some friends that our Astronaut, Dato' Dr Sheikh Muszaphar Shukor Sheikh Mustapha is now demanding RM8,000 an hour to speak at public functions, even at primary and secondary schools. And that excludes hotel and flight charges.
If this is true, then I think the practice must stop. RM8,000 to speak for just an hour or as an "appearance fee" is exorbitant. It is unethical, inmoral almost. How is a primary school going to cough up RM8,000?
I was told that Faiz Khaleed, the reserve astronaut who did not even leave the earth's orbit is also charging a similar fee.
Dr Sheikh Muszaphar, I was told, earns a salary from the Government, being an employee of Ministry of Science, Technology and Innovation (MOSTI). Furthermore, his outer space adventure was funded by the Malaysian public, including me. He shouldn't be commercialising his public-funded stardom and make more money for himself. If he continues to do that, he will soon lose his "hero" reputation and will be despised by the public.
I am sure my friend Dato' Seri Dr Jamaludin Jarjis who as the Minister of MOSTI worked very hard to make the astronaut programme a success and to put Malaysia in the history books, would "jump" if he hears about this.